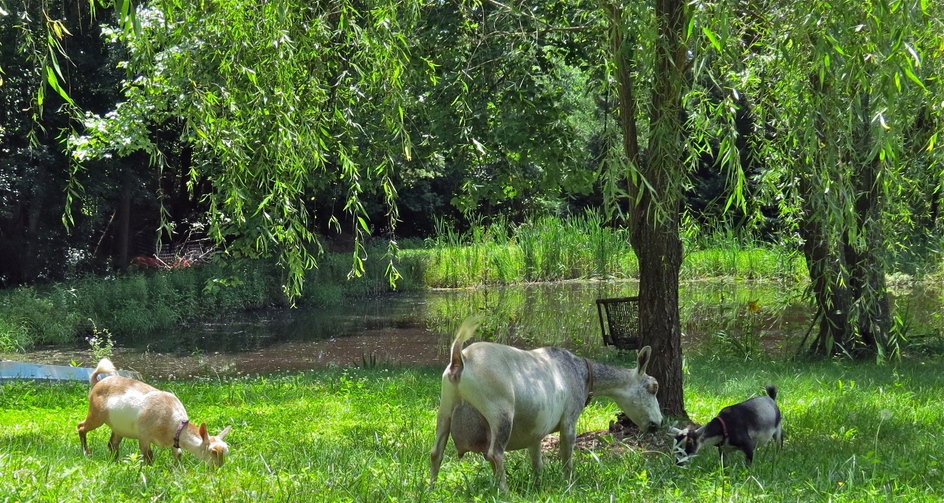 WILLOW POND FARM NIGERIAN DWARF DAIRY GOATS
IS PROUD TO BE THE
CHAFFHAYE
DISTRIBUTOR FOR VIRGINIA AND BEYOND!​​
Curious about feeding YOUR goats Chaffhaye? CLICK HERE!​​
For purchase information, please contact:
​
​D. Lowery, Proprietor
Chaffhaye NOVA: Northern VA
A Division of His & Herds, LLC
~ ​571-282-8890
​​​​​​ ~

FOLLOW US ON FACEBOOK AT
CHAFFHAYE NOVA: NORTHERN VA!​​


​​​​​​​​​​​​​​​​
​​


Willow Pond Farm Nigerian Dwarf Dairy Goats
Breeding for LegenDAIRY Production & Conformation
​
Located in Northern VA
~
Members
AGS
/
ADGA
/
CGC
/
VSDGA
copyright 2016 - all rights reserved
Chaffhaye
- "Breakfast of Champions!"
3rd Annual Spring Fling Goat Show
​Fort Ashby, WV​ 5-18-13​
​
L to R:
​Waterloo Pond PSZ Diana, GCH JR DOE
Waterloo Pond RCT Ginger, GCH SR DOE
Waterloo Pond PSZ Theia, ​​GCH JR DOE & BJDIS

​​

If you are an owner of prized livestock, you have probably faced the difficult challenge of finding quality forage on a consistent basis. It is not always easy to keep the digestive system of livestock properly functioning, while also meeting a large percentage of your animals' daily nutrient requirements at a reasonable cost. Chaffhaye provides a solution as a superior alternative to baled hay and processed feeds.
​
Chaffhaye is crafted from premium-quality alfalfa or grass forage. While still fresh, the crop is chopped, lightly misted with molasses, and compressed into an airtight bag. A fermentation initiates in the bag, transforming the forage into a 'super soluble' forage. In the bag, yeast, enzymes and beneficial bacteria unlock nutrition from the plant fiber and convert its nutrition into a form that is usable and more readily absorbable by your animal. This "pre-digestion" process closely mimics the digestive activity in the intestinal tract of healthy ruminants and browsers. Since Chaffhaye is dust-free and virtually mold free, it alleviates the most common digestive and respiratory ailments generally associated with the feeding dry hays and pellets.
​
As a premier source of quality fiber, Chaffhaye is the safest and most convenient way to maximize health and performance of livestock. When used as 100% hay replacement, your animal will demonstrate a marked improvement in digestion, immunity, growth and performance. Minimally processed, Chaffhaye is the closest product you can buy to natural pasture. Hence it is called premium "Pasture-in-a-Bag."

Top Quality

– Chaffhaye is premium alfalfa or grass harvested at optimal plant maturity to maximize nutrients. Chaffhaye is a supreme source of fiber, protein, and nutrients for browsers and grazers. Nutritionally, 1 bag of Chaffhaye is equal to 1.5 bales of good- quality hay, supporting high milk and meat production.
​


Superior Digestibility

– Chaffhaye is beneficial yeast, enzymes, and microorganisms that support healthy digestion and absorption ofnutrients.Chaffhaye helpsreestablishhealthymicroflorainthe gut of animals after stress and medications and reduces digestive ailments.Chaffhaye iseasilymasticatedanddigested–perfectfor senior animals.
​


Versatile

– Chaffhaye Alfalfa and Chaffhaye Grass are easily mixed, allowing you to craft a custom ration of desired nutrition for your animal.
​


Dust Free

– Chaffhaye retains natural plant moisture and is 100% dust free, making its ideal for animals with coughing and respiratory ailments.
​


Superior Palatability

– Soft and leafy like pasture, Chaffhaye provides a pleasant aroma and is coarsely chopped to release enzymes and maintain good gut motility. A kiss of molasses ensures that every last bit is licked clean – even by the most finicky eater!
​


Easy Storage

– Double compressed, Chaffhaye occupies 1/3 the space of baled hay. Weatherproof packaging allows storage outdoors with no loss of nutrition.
​


Easy Transport

– Sturdy 50-pound bags are convenient for travel and shows.
​


Less Waste

– Animals eat all of Chaffhaye, including stems. This means less waste and cleaner stalls. Because of the high nutrient absorption of Chaffhaye, up to 50% less manure and waste is generated, reducing cleanup time.
​


Cost Effective

– Chaffhaye is much more nutritious than hay, so the amount of supplements and hard feeds can be greatly reduced. A long shelf life with no loss of nutritional value ensures no wasted feed.
​


Certified Weed Seed Free

– Chaffhaye is ideal for habitats where foreign seeds are controlled or prohibited by law.
​


Blister Beetle Free

– Chaffhaye is safe for all forage eating animals.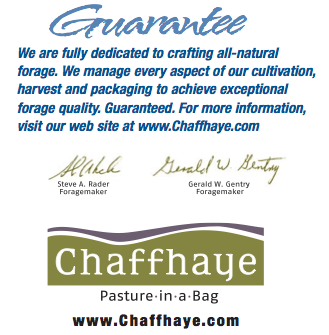 Chaffhaye is great for horses, senior horses, goats, llamas, alpacas, cattle, calves, rabbits, and even wildlife management of deer. Chaffhaye is a 100% hay/forage replacement product, recommended to be fed at the rate of 2.5 lbs of Chaffhaye per 100 lbs of animal body weight per day. As with all livestock, feed changes should be made slowly over a 7-14 day period.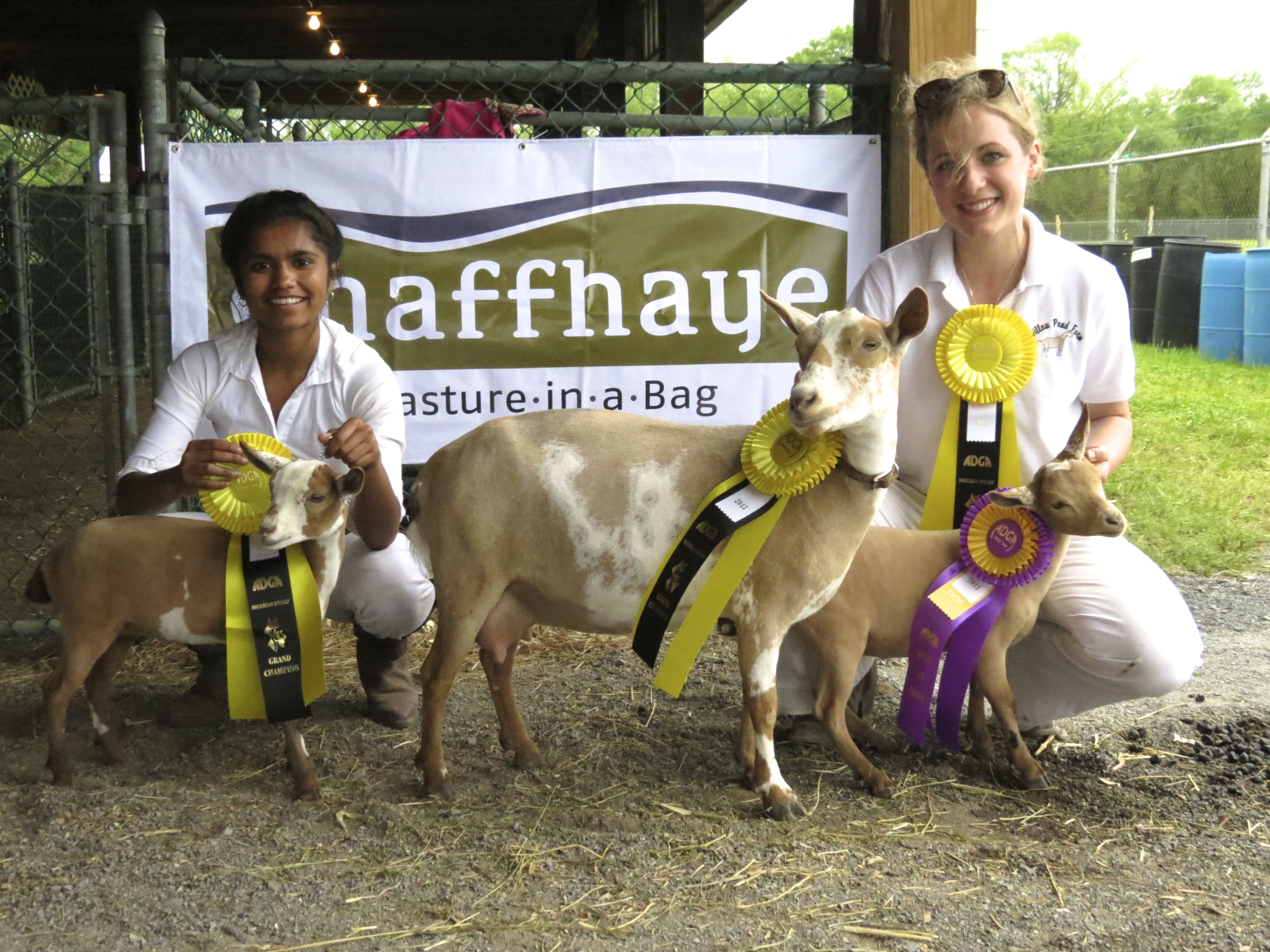 Willow Pond Farm

Nigerian Dwarf Dairy Goats
Simply LegenDAIRY:
STRONG Conformation. PROVEN Production.